San Francisco, CA – April 6, 2020
TuneIn Partners with Global Citizen to Offer Listeners Worldwide "One World: Together at Home" on Saturday, April 18, 2020 – Global Special to Celebrate Heroic Efforts of Community Healthcare Workers in Support of The World Health Organization in Fight to End COVID-19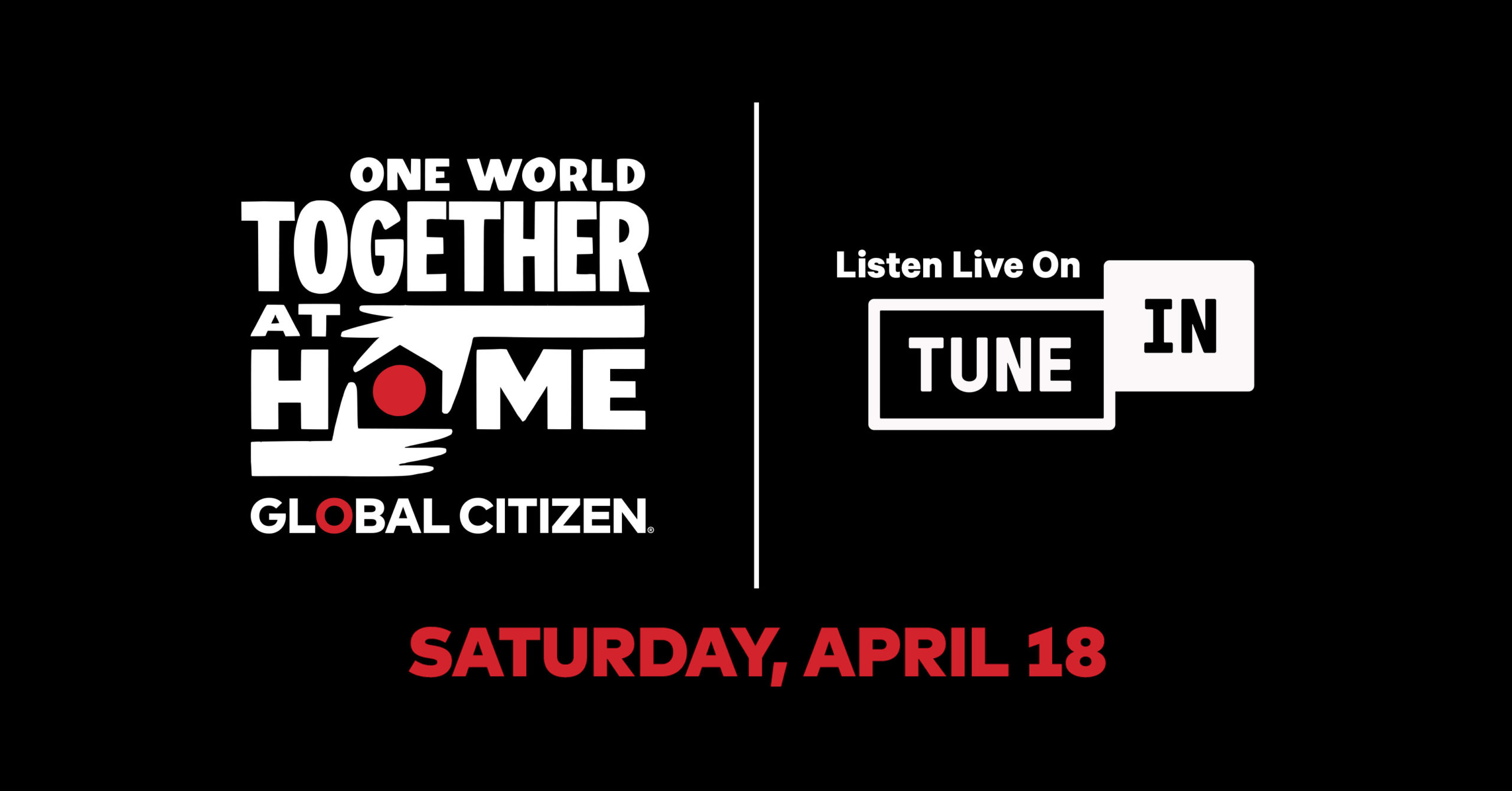 TuneIn, the leading live global streaming and on-demand audio service, is teaming-up with international advocacy organization Global Citizen to offer listeners worldwide "One World: Together At Home," a global special in support of the COVID-19 Solidarity Response Fund for WHO, powered by the UN Foundation. The special, to audio stream on TuneIn on Saturday, April 18, 2020 starting at 5:00 p.m. PDT/8:00 p.m. EDT, will pay tribute to frontline healthcare workers around the world as they lead the fight against the COVID-19 pandemic. To listen on TuneIn, visit https://listen.tunein.com/togetherathome.
"It is a privilege to team-up with Global Citizen to support the World Health Organization (WHO) as we play our part to make this important special easily accessible via audio streaming to our listeners around the world as we unite to pay tribute to the world's frontline healthcare workers and their heroic effort to end COVID-19," said Kevin Straley, Chief Content Officer, TuneIn.
The historic special will be hosted by Jimmy Fallon of 'The Tonight Show,' Jimmy Kimmel of 'Jimmy Kimmel Live' and Stephen Colbert of 'The Late Show with Stephen Colbert,' Friends from Sesame Street will also be on hand to help unify and inspire people around the world to take meaningful actions that increase support for the global COVID-19 response.
One World: Together At Home is curated in collaboration with Lady Gaga and the broadcast will include Alanis Morissette, Andrea Bocelli, Billie Eilish, Billie Joe Armstrong of Green Day, Burna Boy, Chris Martin, David Beckham, Eddie Vedder, Elton John, FINNEAS, Idris and Sabrina Elba, J Balvin, John Legend, Kacey Musgraves, Keith Urban, Kerry Washington, Lang Lang, Lizzo, Maluma, Paul McCartney, Priyanka Chopra Jonas, Shah Rukh Khan and Stevie Wonder.
For more information about Global Citizen and their campaign to support the WHO's Solidarity Response Fund, please visit globalcitizen.org and follow @GlblCtzn Twitter, Facebook and Instagram using #GlobalCitizen.
Globally, TuneIn can be accessed in 197 countries and can be found on more than 200 different major platforms and devices, dominating the voice assistant space with partnerships that include Siri, Alexa, Google Assistant, Samsung Bixby and Cortana, and devices such as Sonos, Bose and Tesla. Go to https://tunein.com/get-tunein/ to learn more.
Visit TuneIn's website and mobile app, and join TuneIn on Twitter at @TuneIn, on Instagram at @TuneIn and on Facebook at facebook.com/TuneIn. For press use, TuneIn art can be downloaded here. Please visit www.tunein.com/press for more information.