San Francisco, CA – June 23, 2020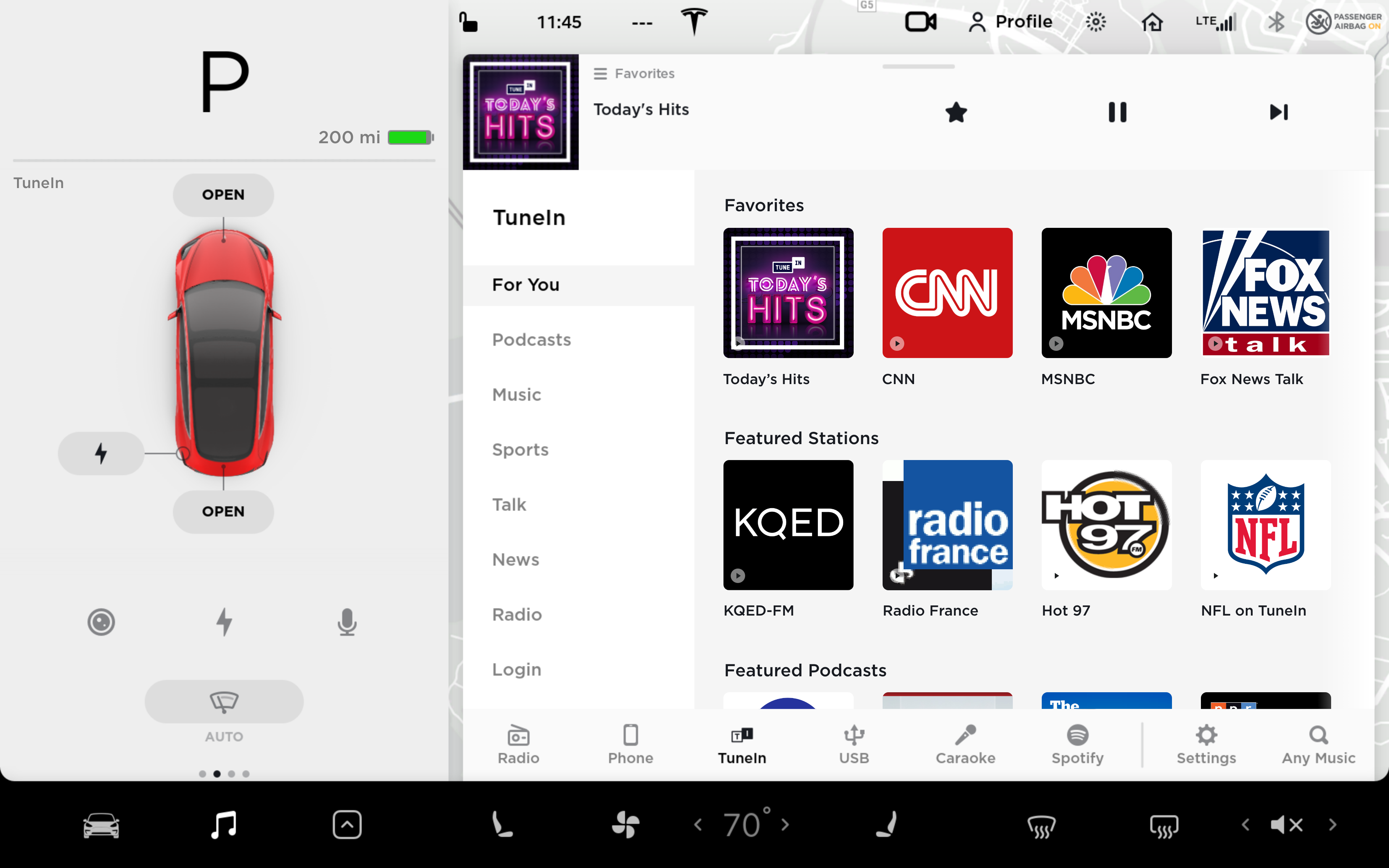 TuneIn's long time integration with Tesla includes a new user experience currently rolling out on all Tesla models globally. Drivers will now have a seamless listening experience and the ability to link their TuneIn accounts via mobile and web through Tesla's in-dash 'TuneIn experience' with a more intuitive browse function, including:
A personalized "For You" home page for easy access to their favorite content.
Access to commercial-free audio streams from top broadcast news networks CNN, CNBC, Fox News Talk and MSNBC, as well as live play-by-play sports with no-blackouts from the NFL, MLB, NBA and NHL, plus over 50 exclusive commercial-free music stations.
Ability to adjust podcast content playback speed and position.
Visit TuneIn's website and mobile app, and join TuneIn on Twitter at @TuneIn, on Instagram at @TuneIn and on Facebook at facebook.com/TuneIn. For press use, TuneIn brand campaign art can be downloaded here. Please visit www.tunein.com/press for more information.
About TuneIn
TuneIn, the leading live streaming and on-demand audio service, brings together live sports, news, music, podcasts and radio from around the globe. With 75 million monthly active users, TuneIn is one of the most widely used streaming audio platforms in the world. TuneIn broadcasts over 100,000 owned & operated and partner radio stations, and boasts more than 5.7 million podcasts. With premiere distribution across 200 platforms and connected devices, TuneIn empowers listeners to hear what they love while discovering new things anywhere they listen. TuneIn Premium subscribers also unlock exclusive access to commercial-free top news networks like CNBC, CNN, FOX News Radio and MSNBC, live sports action, and commercial-free music channels for every mood and activity. With venture funding from Sequoia Capital, Comcast Ventures, IVP, Innovation Endeavors, Causeway, General Catalyst Partners, Icon Ventures and Marker LLC, TuneIn is headquartered in San Francisco, California.